Financial Assistance for Education
Lack of Finance should not be a reason for deprivation of Education
Kruger Foundation, Karwar, in collaboration with Shri Devadatt Kamat, young Advocate of Supreme Court of India, and a man of vision, have come forward to sponsor this new project, "Financial Assistance for Education", which will be executed by Kanara Welfare Trust to help the poor and deserving students of Uttar Kannada.
Kanara Welfare Trust, pioneer Institution of Uttar Kannada District has been working for the cause of education and social upliftment for the last six decades. Its main concern has been the emancipation of the poor and downtrodden people of the district.
This project provides financial assistance to those who, due to lack of financial resources, are deprived of pursuing higher education.
The first SCHOLARSHIP AWARD CEREMONY took place on 8th September 2012 at Ankola.
Shri K.V.Shetti, Administrative Officer of Kanara Welfare Trust welcomed everyone and read out a brief report regarding the project. The Scholarship Award Ceremony was formally inaugurated by lighting the traditional lamp. Shri Vishnu Naik, Retd. Principal, introduced the dignitaries to the audience.
Shri S.P.Kamat, Chairman, Kanara Welfare Trust and also Chairman of Kruger Foundation for Child Aid, Karwar, gave the presidential address.
"Every child, every student of our district is our child and our student. I want every one of them to achieve what they dream about, what they desire for life. We will not allow a single student in our district to get deprived of their education for want of support. The entire Trust activities are all aimed at bringing about a change in the society through the process of education. I make this solemn assurance today – if you are a merited student, a student who aspires for something big and great, you will not in any way be let down for want of support of whatever nature including the financial support."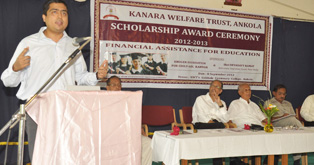 Shri Devadatt Kamat, Advocate, Supreme Court, New Delhi, and one of the sponsors of this project addressed the beneficiaries present. In his own words,
"Indians in ancient times believed that education is supposed to bring out the best in you, to be able to lead a happy, contented and a fulfilling life. Wealth and earning money came much subsequent. Today, unless you have a certain amount of financial security or financial comfort, education becomes difficult. The whole cycle has been inverted. Part of the blame lies with the state, part of it with us. In order to set this cycle in reverse, we have started a small attempt that not a single student should be deprived to reach his fulfillment because he can't afford it. It is simply criminal that a bright mind cannot achieve what he wants to achieve because he can't afford it."