Gokul
The Founders believe that a wholesome growth and development of a child does not depend upon only on the material needs to be satisfied such as food and shelter but verily depends upon the ambience of love and concern making a child feel needed. A 'Home' and not just a 'House' is required for a child to feel secure and being loved.
It is this conviction of the founders that prompted them to establish this 'Home' for homeless children - GOKUL.
Gokul - A place of Hope, Love, and Care.
The need is more acute in the case of the girl children who deserve greater protection for their development and growth. It is for this reason that the girl children alone are taken into the protective umbrella of 'Gokul'. The role of the Foundation as envisaged, transcends beyond the help to the children and encompasses several other activities aimed at bringing a positive change in the social structure of the society. The areas such as health care, education, village sanitation, village restructuring, supporting people in distress, in general and the young children in particular are the focused targets of the Foundation.

Gokul - A place of Hope, Love, and Care.


Mobile Health Centre

Kruger Foundation (with the help of Sanjeevani Trust, a local NGO), helps to run a mobile health centre at Joida, an almost neglected region of Uttar Kannada District. So that poor and needy people can always get this facility.

Financial Assistance

Kruger Foundation, in collaboration with Shri Devadatt Kamat, young Advocate, have come forward to sponsor this new project, "Financial Assistance for Education", which will be executed by Kanara Welfare Trust to help the poor and deserving students of Uttar Kannada.
Spotlights
Joida Taluk is a remote and rural area, an almost neglected region of Uttar Kannada District with very meager facilities. Lack of basic Health Care was a major cause of concern. Kruger Foundation observed this serious matter and tried to focus on this important issue. With the help of Sanjeevani Trust, a local NGO, it helps to run a mobile health centre at Joida and adjacent villages so that poor and needy people can avail of the best basic health care. This mobile health clinic operates in the most interior parts of the region as well.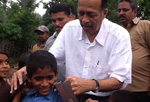 Emancipation of man can only begin with the help of education. Remote villages in Joida witness large number of school drop-outs. Kruger Foundation helps the deserving children by providing them school kits which they use in their schools and study with it. Children of today are the future of our country and it is the responsibility of the society to secure their future and show them the way ahead. Kruger Foundation is trying to help and motivate children to rise and develop with the help of education.
The World cannot be changed without bringing about a change at the level of Man. If human mind changes, the world will be reflected in its change and that's the only way to change the world and save it from the downward slide that it is presently experiencing. An attempt was envisaged and initiated at a relatively small humble level to create a group of young Boys and Girls who were in their formative years of life who could be oriented to become change makers for the world tomorrow. Read More

Waves of change
Partners
Impact Economy - Trailer Greifenstein 2012
Partner with us
Please use this e-mail address for all enquiries regarding applications to become a partner at the foundation, including requests for prospectuses.